It's been awhile since I posted anything Minecraft related and I thought it would be a waste not cover the Mother of all Minecraft Mods.
As you can see in the background, I have modified parts of a Village to suit my needs for a base camp. Why bother making a home when you can steal one? If you are wondering what kind of armor I'm wearing, it's a
Quautum Helmet
with a
Nano Body Armor
,
Leggings
, and
boots
. Both of which are made from some of the strongest and most expensive materials in the game.
All the items are incredibly difficult to get/manfacture, but the pay off is well worth the effort you put in. That's what Tekkit is all about, high risk = high reward.
This is my laboratory where all my gadgets and gizmos generally reside. It took quite a long time to get it set up in a quasi-efficient manner, considering I am not very good at planning things out for an extended period of time. Which I am fine with, makes things more fun. Each machine seen have a unique and crucial role in my ability produce the items I desire. Starting from left to right:
Iron Furnace
,
Singularity Compressor
,
Extractor
,
Recycler
,
Geothermal Generator
(My secondary power source), and
Mass Fabricator
. Off to the side of the right is my
Condenser
:
Arguably one of my most useful pieces of (magical) equipment in my laboratory. It allows for a quick of gathering materials without the hassle of finding them. For example: A stack of Coal is equal to one diamond. Two diamonds are worth one Uranium ore, and so on and so forth. Extremely handy and definitely something you should invest in making.
I talked about early how my secondary source of power was a Geothermal Generator. Here is my primary source of energy:
The
Nuclear Reactor
, provides a massive amount of energy in exchange for risk of having it meltdown and explode. The benefits vastly outweigh the negative aspects, all it needs is a little maintenance from time to time. If any of you decide to build one of these, it is essential you put it in a container made of
Reinforced Glass
or
Reinforced Stone
with a relatively decent of amount of water. Here is a relatively safe setup to power your reactor:
There are many forms of energy you can use and oil refining is one of my favorites (Even if it is less effective than Nuclear Energy). If you ever one to begin pumping oil, you must first find a geyser, like so:
This one is much bigger than the norm as you can plainly see, so it will definitely benefit us in the future. Now all that's left is to harvest it.
Viola
, this is an Oil Refinery I pre-arranged (the large geyser I came across a bit later). Refined Oil is most commonly used in things like the
Combustion_Engine
.
Need to mine a large amount of materials, but never seem to find the time? Well look no further than the
Quarry
!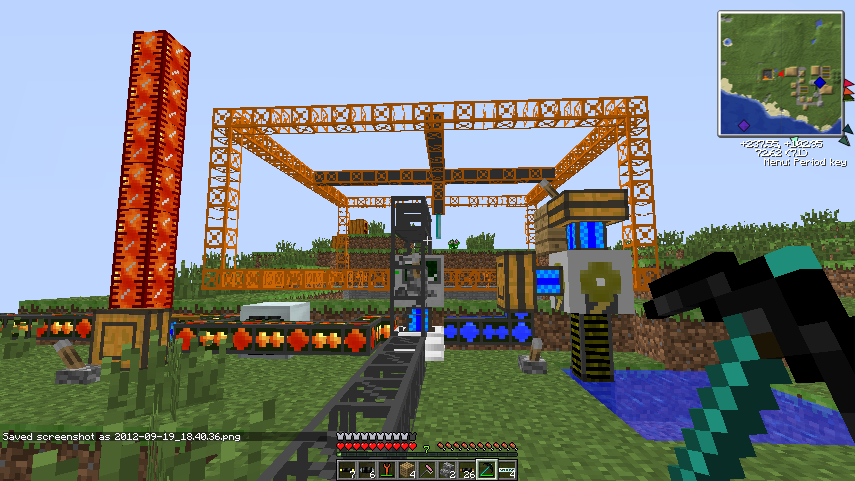 While the energy needed to power it can be quite demanding, this piece of machinery will do all the work for you while you are out doing more important projects. Leave it alone for long enough and it will mine all the way down to bedrock and even cuts through obsidian! (Just make sure to check up on it periodically to make sure lava doesn't get in the way.)
I must say, the results are quite satisfactory.
So many things Tekkit has to offer and yet I have barely even scratched the surface of this Mod. Easy to download, challenging to learn, and hours upon hours of discovery.
So get your copy today.
HEROBRINE DEMANDS IT.